~ Jane Smiley
I love books. I love to read, love to explore, and love to learn. There is nothing as special as spending quiet moments with your child, reading and sharing these experiences with them. Looking for something fun and creative to do with your family? Why not grab your favorite Original Works tote bag or drawstring tote, head to your local library and fill it up with books you can read together!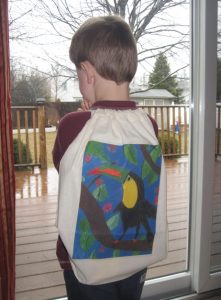 Looking for some great book ideas? Check out our Pinterest page, where we have over fifty great books which focus on art and creativity.
We hope that you take the opportunity to look at them, find a few that interest you and take them out of your local library. You can create a fun atmosphere with your child, and enjoy reading the books together. When you are done, you can discuss your favorite parts, and then possibly create some artwork of your own!
If you have a favorite art book that you would like to share with us, leave us a comment below or share a link on our Facebook page! If you take out any of the books listed on our Pinterest page, we would love to hear your thoughts and recommendations!
Click below to see our featured lesson plan of the week!