~ Francis Church
This of course is the headline from the famous editorial written by Francis Church to Virginia O'Hanlon and printed in the New York Sun in 1897. However, it also rings true for the thousands of children who have been touched over the years by the talents and generosity of Phil & Pat Potter.
Phil is a quiet and unassuming retired GE tool & die maker, as well as an immensely talented wood worker. Pat is vivacious and full of energy, probably due in part to the fact that she has been a swimming coach and official in the area for decades. Both share a strong passion for supporting those in need, and yet go about it in a wonderfully quiet, humble way.
You see, when they are not visiting their children and grandchildren, playing golf or coaching/officiating swim meets, the two embrace the true meaning of giving, by serving needy children throughout the community. A community they have called home all their lives.
Phil has always enjoyed working with his hands, and as an avid woodworker he has created an impressive home workshop where he can truly build anything. From grandfather clocks to rocking chairs to china closets, his amazing handiwork adorns the homes of family and friends far and wide.
Phil & Pat Potter in their workshop
After retiring from GE a quarter century ago, Phil wanted to use his time and talents in a way that would assist those who are less fortunate. His idea? To build wooden toys from scratch and give them away to children in need.
That first year he designed wooden train sets for the boys and doll beds for the girls. Together with Pat and some assistance from their three children, they cut, drilled, sanded, painted and assembled dozens of brightly colored trains and doll beds (complete with fabric dolls and blankets). Then they contacted a local non-profit group who handled the work of matching up the toys with needy girls and boys.
Twenty five years later, Phil and Pat have designed, built and given away thousands of wooden toys – ranging from block sets to airplanes, dump trucks to race cars, and boats to doll beds. In fact, in a corner of the workshop Phil has a glass case where he stores samples of the toys he has designed and produced over the years.
Brightly colored trucks waiting to make a child's Christmas
extra special. The glass case at upper right contains samples
of toys produced over the years.

Early each fall, clad in jump suits, goggles and face masks; with saws buzzing, drills whining, electric sanders running and sawdust flying, Phil and Pat begin the process of producing toys for hundreds of needy children. While Phil runs the operations, Pat takes the pieces off the machines and organizes them for the next production sequence, assists with the painting, and is apparently quite adept with a Shop Vac – cleaning up after Phil so they aren't overtaken by wood scraps and sawdust!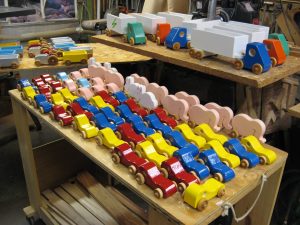 Wooden race cars, trucks, tractors and animals all organized
and ready for packaging and delivery.

One of the truly unique qualities inherent in the toys that Phil and Pat produce, is that everything is glued and clamped. No nails, screws or metal fasteners that could harm a child. Each toy is designed to be fun, functional, safe and long lasting. Such care and painstaking effort is often hard to find in today's world of instant gratification, and yet it is easily observed as you tour the workshop and see row upon row of colorful toys laid out on tables and benches, and overflowing into an adjoining room.
Wooden blocks in brightly colored pails. Two gifts in one!

This year Phil and Pat designed and built over 400 race cars, trucks, doll beds and block sets.  For the last several years they have also partnered with a local quilting group. The five member group produces quilted dolls and blankets that are matched up with the wooden doll beds to create a very special and colorful gift for a young girl on Christmas morning.
Phil and Pat will begin delivering  their gifts to local non-profits this week, and these groups will do the work of distributing them to the families in time for Christmas. Keeping a low profile about the work they do is the way the couple prefers to operate. And although they may never meet the families and children they touch through their gifts of hand made wooden toys, they can take immense satisfaction in knowing that they have made a difference in the lives of thousands of children.
So to paraphrase Mr. Church; Yes Virginia there is a Santa Claus, and his spirit lives in the hearts, minds and deeds of caring people like Phil and Pat Potter.
Carol
Click below to see our featured lesson plan of the week!