See Before You Buy Fundraising Program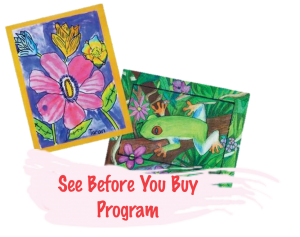 Our See Before You Buy (SBYB) Program is our take on a preview program.  Each student receives a 4″x 5″ magnet featuring their very own artwork. This provides a great way for families to see the quality of our products!
Program overview… 
A fun twist on our Original Program.  Create artwork as part of the school curriculum or use one of our free lesson plans.
Each child receives a special Preview Magnet produced from their artwork!
Pay for and keep the magnet, return it without obligation, and/or place orders for other products.
Completed orders delivered in 12 business days or less.  Fastest in the industry!
Place additional orders and continue to earn a full 33% profit, plus earn a 33% profit from the sale of each Preview Magnet!
Request a FREE brochure and learn how easy it is to set up a fundraising program – call 1-800-421-0020 or contact us online!

If you're looking for unique and creative  fundraising ideas for pre-schools through high schools, civic or church groups, browse our other fun and creative fundraising programs:
Like our other creative elementary school fundraising ideas, with the See Before You Buy (SBYB) Program the artwork is also created in class. The teacher may use one of their own lesson plans, or we will supply appropriate art based lesson plans (some of which are designed to be completed in just one class session)  free of charge.
Once the artwork is completed, it is sent to Original Works for production of a custom, full color, 4″ x 5″ preview magnet. A magnet is made for each piece of artwork submitted. Within two weeks we will send a Magnet Package to the school for each participant in the elementary school fundraiser, church group, or other program. The Magnet Package contains:
the preview magnet
fundraising product brochure
order form
a customized program letter
The SBYB is also a great way to develop creative high school fundraising programs!
Families may then purchase the preview magnet, return it with no obligation and/or purchase any of the other items offered in your art fundraiser packet. This step allows the students and families to see first hand the quality of the reproduction before they make their selections. Once families and friends complete the order form to choose which art fundraiser products they wish to buy to support the project, the form is then returned to the school or organization with payment. Within three weeks the completed fundraising products are delivered to the school ready for distribution.
The SBYB Program takes 6-7 weeks to complete.
Call (800) 421-0020 today, or contact us online for more creative high school and elementary school fundraising ideas! Original Works is a leader in providing proven elementary art fundraiser programs that are fun and educational, as well as unique fundraising ideas for high school students!