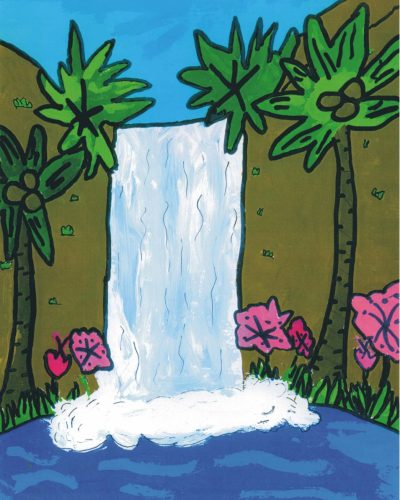 Provide examples of project and photographs of tropical scenes
Discuss colors in tropical scenes – warm and cool colors, variety of vibrant colors and the variations in the shades of green
Discuss the three parts the scene should include: foliage, water and sky
Encourage students to mix colors and use a variety of bright colors in their scene
Have each student look through photography and come up with ideas for their paradise scene. Students should use their imagination in creating their masterpiece.
Create a paradise scene on a practice sheet of paper.
Transfer the scene to the heavy white paper.
Mix tempera paints and paint the scene. Let dry.
Outline the whole picture with black marker, using either the fine or ultra-fine tip depending on the level of detail.
Debbie Smith – Art Instructor @ Colorado Springs, CO
8.5″ x 11″ white art paper
scratch paper
pencils
erasers
bright colored tempera paint
black markers (fine & ultrafine) tips
photos of tropical scenes
samples projects