"A PICTURE IS WORTH A THOUSAND WORDS."
~Chinese Proverb
Welcome back, it's been a busy week here at Original Works.   Delivery trucks in and out all day long, production floor buzzing, and shipping department in full swing.
This week, I wanted to start in our Art-Rec department, which is where the artwork goes after everything is received; remember those boxes Joyce was hiding behind last week?
Phyllis and her team in Art-Rec review every piece of artwork that is sent to us.   The staff checks to ensure that our art guideline requirements have been followed.  They look for things like glitter, copyrighted images and paper size.  The guidelines are put in place to make sure that each product looks great and every program is successful.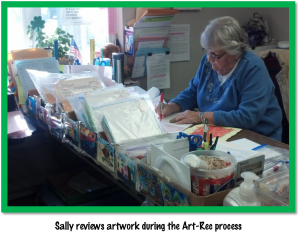 This is one of my favorite places in our facility.  I like to walk through and see all the masterpieces.  In the picture above, Sally is checking some holiday themed pieces; I can't wait to see the finished products!  After all of the artwork is checked and organized, orders are loaded into our production system so that they can be processed and invoiced.
From Art-Rec the orders and artwork move onto the Scan Department.  This is the place where all of these fantastic creations are scanned, reviewed, adjusted, uploaded to our system and then matched up with the corresponding orders.  Jenn runs this critical department for us, and during the fall she is running non-stop all day long.  Scan is a very integral part of our process.  Not only is the volume of artwork extremely high at this time of year, but accuracy and skill is key to ensuring that every product looks just right!
  Join us next week when we will check in with some of our manufacturing staff and see how the images are transformed from scan into the products you love!