"A little spring cleaning today can make the winter blues go away" ~ unknown
Last week, Spring was the inspiration for our blog post.  This week, with Spring still on our minds, I'm focusing on Spring Cleaning!
Whether you are an art teacher, a parent, or a crafter, we've found some great ideas, tips & tricks to help you clean and organize your creative space.  In addition, we found some sites that provide some creative uses for those items you may find while doing your spring cleaning.
For example, Lily Field Life offers tips on cleaning and restoring your old dried up paint brushes with something as simple as vinegar.   
 Going through your closet and throwing out or donating old clothes?  This tutorial provides instructions on how you can turn an old t-shirt into an art smock!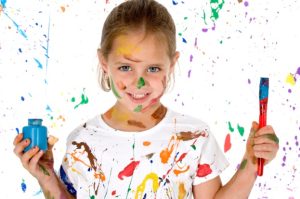 Crayons!  How many of us have tubs full of stubby or broken crayons?  Don't throw them away.  Check out Diply.com and Home & Garden TV for fun and creative ways to recycle those crayon pieces!
We have a Pinterest board full of additional ways to clean and organize.  Do you have any tips you'd like to share?  Have you found a great way to keep things organized or know a trick to keep those paint brushes clean?  Post them on our Facebook page or email them and we will share them for you.
Be sure to tune in next week when we interview one of our program art teachers who sees 820 kids a week!  Believe us when we say high energy and creativity are part of her daily routine.