Amanda Shaw – Our Winter 2013 Teacher of The Quarter
Our featured art educator of the quarter is Amanda Shaw from Signal Hill Elementary. We have had the privilege of working with Amanda for several years, and have known her to be a very dedicated art educator. Not one to sit still, Amanda runs our regular OP program in the fall and then runs a Tile Wall program in the spring. Here is what she had to say regarding her passion for art and art education.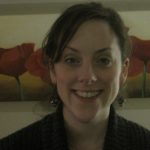 How long have you been involved in art education?
I am now into my ninth year teaching art.
What grades do you teach?
I teach students in grades Kindergarten-Fifth at Signal Hill Elementary in Prince William County, Virginia.
What was it that sparked your interest in becoming an art educator?
I have always had a passion for art, which started when I was very young. I would always draw and paint. It was my high school art teacher, Mrs. Staats that really inspired me to pursue a degree in Art Education.
Do you have a particular art medium you like to use in your classroom?
I always incorporate a variety of art mediums in my classroom, but my favorite thing to work with is paint. I love painting and having my students explore various types of painting techniques. We use a lot of watercolors and tempera paints.
Tell us one of the more memorable things that a student has done in one of your classes?
My students surprise and inspire me every day, but one memory that sticks out in particular happened a few years ago with one of my fifth grade students. In the beginning of the school year, we had spent a lot of time learning about Andy Warhol and creating artwork inspired by Pop Art. At the end of the school year I received a card from a student thanking me for inspiring her to want to create art, inside the card was a gift card that looked just like one of Andy Warhol's works of art! She was so excited to tell me how she saw the gift card, thought of me and told her mom all about Pop Art and Andy Warhol. Realizing that what she had learned in the art room, she was able to apply to something in her everyday life and teach her mom about art was a really inspiring moment in my teaching career.
Is there anything you would like to share with your peers about your career as an art educator?
I recently earned my National Board Teacher Certification in Early/Middle childhood Art, which was a very challenging and rewarding process for me. It allowed me to take a closer look at myself as an educator and reflect on my strengths and weaknesses as an art teacher.
Amanda, thank you so much for taking time to speak with us. We appreciate all you have done with the Original Works program over the years. The staff, students and parents at Signal Hill Elementary are fortunate to have such a caring and dedicated art educator.