~ Picasso
What a wonderful journey this month has taken us on! Youth Art Month is about to come to a close, and by now I am sure that you have made all sorts of wonderful creations with your family and students. Last week we looked at ways to organize and display these masterpieces in your home, and this week we will be offering ideas for showcasing your artwork in the classroom or at an event such as an art show.
Art teacher Patty Palmer from Deep Space Sparkle shows us how to create these wonderful folding display boards using hollow core doors. Patty primed the doors, created colored paper panels that she stapled the artwork to and then taped the paper panels to the doors. I have also seen less sturdy but still effective versions using foam insulation sheets from the home supply store. Both are a great way to use available floor space to display artwork.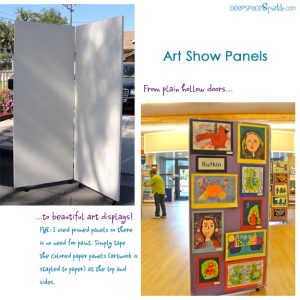 https://www.deepspacesparkle.com/2012/03/23/prepping-for-school-art-show/
Maria Wynne created this stackable display piece out of regular cardboard boxes. Maria chose to leave her boxes as is, but they could also be covered with paper or even wrapping paper to coordinate with your artwork.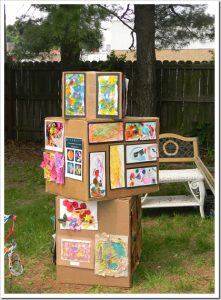 https://casamarias.blogspot.com.au/2011/05/2011-old-fashion-fun.html
Last but certainly not least, is Sarah Cooley from First Grader at Last. Sarah jazzes up hallway artwork display by creating fun and funky frames out of laminated poster board!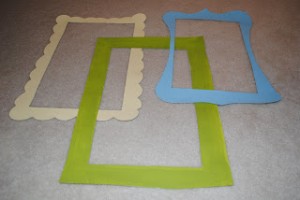 https://firstgraderatlast.blogspot.com/2011/06/youve-been-framed.html
These are just a few of our favorite art show display ideas from around the web. Do you have a unique way of showcasing your artwork? If so then please send us a picture. We will post it on our Facebook and Pinterest pages! Simply email it to us at OWYHQ@Originalworks.com with a brief description.
We look forward to launching into a new series of topics next week. Until then we hope you all enjoy your weekend with family and friends!

Click below to see our featured lesson plan of the week!