"Find color in your world every day!" ~Anonymous
This quote is at the bottom of Becky Sullivan's signature line on her email. She is the art teacher at South, West & Graff Schools in Laurel, MT.
We were first inspired by Ms. Sullivan back in January when she entered our Good Works contest. As part of this contest we ask the question, "What inspires you about teaching art?" Following is Ms. Sullivan's response: "When I walk into a classroom, all the student's faces light up. "The Art Teacher is here!!" I see 810 kids a week, K-4. Talk about an awesome feeling. I thoroughly love my job!!"
When I first read this, I thought to myself, 810 students a week, WOW! Since being named our January Good Works Winner, I've continued to keep in touch with Ms. Sullivan, and have been truly inspired by her love for art and teaching. As a result, I thought I would take this opportunity to share her story with you.
"I have a B.A. from Concordia College in Moorhead, MN and a MAEd from University of Phoenix in Tucson, AZ. I have been teaching for over 25 years in Montana, Arizona, California, and South Dakota grades K-7."
"This is my first year teaching Art full time. I LOVE MY JOB!!! While in California, due to specialists being cut, I taught my own Art in grades 2nd and 4th. I try to incorporate literature into my art especially for my K-2. In grades 3-4 we look more at history, the artists and the different genres of art."
"I landed my current job (Art/Technology) in September of 2013, when the former art teacher resigned. I see nearly 810 students a week in grades K-4 at three different schools.
Laurel, MT has a unique school district where there are three elementary schools, a middle school and a high school. Why is it unique? South Elementary houses the eight kindergarten classes. I travel to South four days a week for one 30 minute session per class. West houses the first and second grade classes (8 of each) with approximately 340 students. I also travel to West four days a week, where again, each class has art for 30 minutes. Finally at Graff Elementary there are approximately 310 third and fourth grade students in 11 classes. At Graff the classes come to me in the art room for a 45 minute class period/week."
In addition to sharing her background with us, I also asked Becky to tell us about her favorite lesson plan or activity:
"My all-time favorite lesson to teach is "Apple Man" based on the work of Paul Klee. I did this with 1st-4th grade. Line, design and the color wheel were used for this lesson. We discussed color families and complementary colors."
Back in early March Becky also sent us pictures of some of her current class art projects. Here is what she sent, along with her narrative.
"1st is a 2nd grade snow angel, based on a book called, "A Perfect Day", by Carin Berger. 2nd is my kinders doing atmospheric perspective with Here, Near & Far."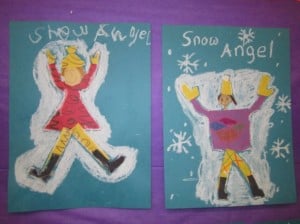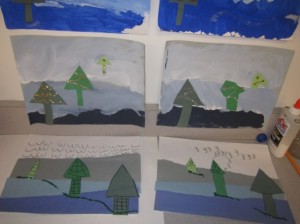 "Currently my kindergarteners are working on their painted paper bugs, based on the story, Some Bugs, by Angela Di Terlizzi, and illustrated by Brendan Wenzel. My first grade classes just finished their Art Portfolios and will be starting "Portraits with Funky Hair" based on the book, What if I had Animal Hair? 2nd grade is working on a book of watercolor techniques. Third/fourth grades are working on Monet and the Impressionists."
The school district has been participating in our Original Program since 2008, and Ms. Sullivan told us "My students are very excited to "show off" their talents!!"
We want to thank Becky for taking the time to share her story with us and for the inspiration she provides to her students, parents and colleagues.
Do you have a story you would like to share? Contact us today. We would love to learn more.