We have designed our products to show case children's creativity in a way that their teachers, parents, relatives, and friends can enjoy and use every day. We have a wide selection to choose from, but there are certain products that stand out as the favorites for fundraisers and personal purchases.
Following are a few of our customer favorites.
Ceramic Mugs – Whether it is coffee, tea, or hot chocolate, our 15 oz. & 11 oz. mugs are the perfect size to customize with a favorite photo or original artwork. These are great gifts, and ideal for showing off the aspiring artists in the family.
4×5 Magnets – As one of the first products we introduced over 30 years ago, our 4" x 5" Magnets are great for showcasing artwork or a classy photo anywhere you can stick a magnet. Our custom magnets feature a laminated front with a strong magnetic backing that won't wear out. Also check out our Mega Magnet 12-Pack, Mini Magnet 4-Pack, and Variety Magnet Pack.
Ornaments – Our personalized Snowflake, Tree, and Wreath Ornaments are perfect for the holidays. They also offer a special way to celebrate other occasions. Start your annual collection this year!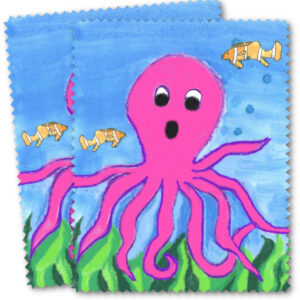 Mouse Pads – A mouse pad that features creative, original artwork is a must have for any office. Our skid resistant and durable 7 1/3" x 9 5/8" mouse pad offers a fun and functional way to display your artwork in full color. What a great way to make the workday a little brighter!
Multi-Purpose Towels – Our high-quality multi-purpose towels showcase your artwork in full 8 ½" x 11" color, adding a comfortable, personalized touch to your home. Towel dimensions 15" x 24".
Do you have questions regarding our programs or products? Our staff at Original Works is ready to help. To learn more about Original Works products, or how we can tailor our programs to ensure your fundraising effort is a success, contact us today at 518-584-9728 or OWYHQ@Originalworks.com.