"TREE HOUSE
A tree house, a free house,
A secret you and me house,
A high up in the leafy branches
Cozy as can be house.
A street house, a neat house,
Be sure to wipe your feet house
Is not my kind of house at all-
Let's go live in a tree house."
~ Shel Silverstein, Where the Sidewalk Ends
We are excited to introduce you to the Garden Gate Child Development Center. A month ago, we learned about a wonderful treehouse they were building using funds raised through various art fundraising efforts. They have participated in the Original Works fundraisers several times over the past years. Leigh Ann, the center's Director told us she still has a pot holder with her own son's artwork on it from one of the first times they ran Original Works fundraisers about 10 years ago! "We love the idea of preserving the children's art in ways that parents and other family members can enjoy over time."
Leigh Ann, was gracious enough to share some background about the center and the project with us.
"We chose Original Works for our tree house project because we thought the garden flags specifically would add something special to the project. What began as a dream this past summer is becoming a reality thanks to a combination of fundraising efforts and generous donations from our community.
The children drew the initial plans and built the scale models of the treehouse. This winter one of the dads at our school created an architectural drawing of the structure and began to build it in his workshop.
Here are some photos of the children's original tree house models. The child that can be seen in one of the photos is the son of our tree house builder, and was one of the first children to work on our original model – like father, like son!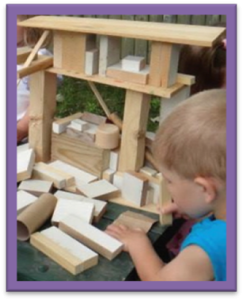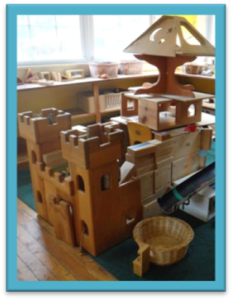 As soon as the snow melts and the ground thaws we will install it in our playground and have a grand opening party to celebrate!" Here is a preview of the treehouse in progress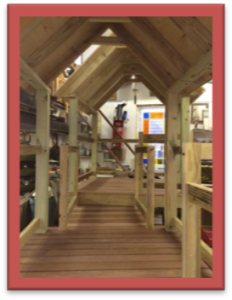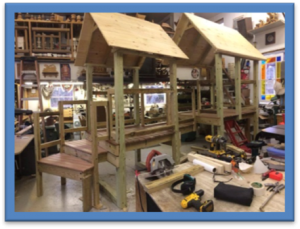 Any student that purchased a flag during the fundraiser will have their flag displayed at the grand opening, what a great way to celebrate art! Stay tuned for pictures! Congratulations to the staff and students at Garden Gate on making your dream tree house a reality! We can't wait to see the final production.