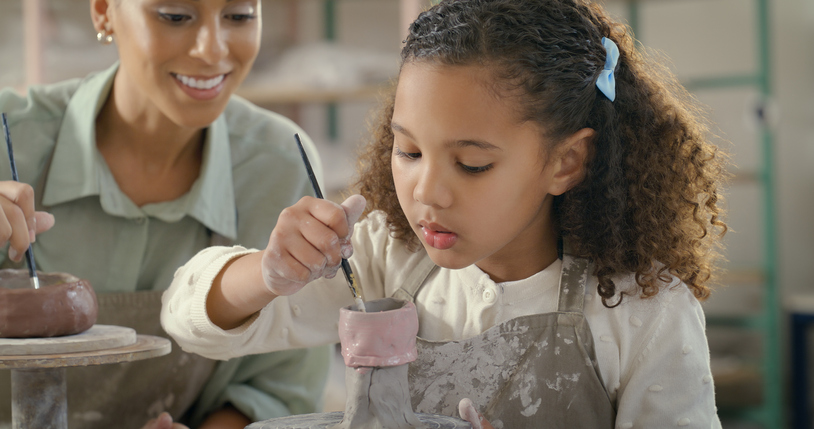 In recent years, many school districts have been forced to cut art education due to budgeting and pressure from the state and federal level to prioritize test scores, math and reading. Unfortunately, this trend has been at the expense of our children. Much like afterschool sports programs, the performing arts, and music, art allows students to grow and develop in ways outside of their academic pursuits – and it's critical to their success.
Benefits of Art Education
Art education not only helps students to think outside the box, be creative, develop fine motor skills, and build self-esteem, it has been shown to improve academic performance.
Inspires Creativity
Creating art requires children to use their imagination and think outside the box. It opens them up to new ways of viewing the world and challenges them to come up with creative ways to express and communicate their feelings, views, and ideas.
Builds Self-Esteem
Art encourages children to make decisions about their subjects, colors and mediums, and to become self-reliant. This, in turn, builds confidence and self-esteem. Students learn to trust their own strengths and skills, affirm their uniqueness, and experience a sense of accomplishment.
Develops Fine Motor Skills
Art activities help to strengthen and exercise the tiny muscles in the hands, fingers and wrists. For example, holding pencils and paint brushes, drawing, tearing and cutting at a young age can make it easier when it comes time to learn to write and type.
Improves Academic Performance
Students who participate in art programs show improved language and reading skills and perform better in math and science. Art education also teaches problem-solving and analytical thinking, and helps students learn to take constructive criticism and develop resilience.
How to Implement Arts Programming for Free
Art education is critical to our children's development, and Original Works is committed to helping schools keep art in the classroom. Our art-based fundraising programs allow schools to build student creativity and self-esteem, while also raising money to support additional arts programming.
How it Works
We offer schools a variety of fun and unique art-based fundraising programs that are easy to set up and administer. Through our programs, students create original artwork and then we select a product or products onto which they would like their artwork reproduced. With over 30 products to choose from, ranging from ceramic mugs, mousepads, and magnets, to canvas totes, ornaments, and sketchbooks, our fundraising products offer something for everyone.
In addition, our commitment to our schools ensures they have everything they require to run a successful program. This includes free art paper, marketing materials, art instructions, and access to tips, techniques, and art ideas. We also cover the cost of shipping the artwork/orders to us, and the completed products back to the school.
Get Your School Fundraiser Started
To learn more about our art-based fundraising programs and how Original Works can help you integrate art education in your school or classroom, call (518) 584-9278 or contact us online. You can also find more information about our programs in the FAQs or by reading our customer reviews.