At Original Works, we do a lot of different things, mainly preserving kids' artwork in a myriad of ways. But if you have never participated in creating an Original Works fundraising program, you may not know what it is we really do.
We make memories.
The Business Of Preserving Kids Artwork
Since our Inception in 1989, our goal has remained the same: to be the best art based fundraising company out there. If you have participated in a fundraising program with us in the past, you know that our programs are designed to help you raise the money for your school or organization with the least difficulty and the most support!
It remains our privilege that preschool and elementary schools, middle schools, high schools, church groups, homeschoolers, and all types of youth groups and organizations across the United States trust us with their most valued asset: kid creativity.
How do we know if we have succeeded?
We frequently receive emails, phone calls, and links to social media posts where parents, teachers, and now-grown students share their Original Works fundraising projects from years gone by. Our quality products and commitment to exceptional manufacturing standards ensure that each child's artwork is treasured long after they first delight parents, grandparents, teachers and caregivers.
Here is one example.
Two families in Freedom WI created quilts from the quilt block projects they received from their participation in our fundraisers over the years. What better way to keep those memories alive and well for years and years to come?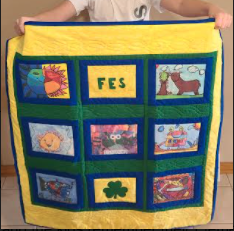 Join the many thousands of satisfied Original Works customers who have treasured their child's artwork creations for decades. With a host of custom programs designed for every organization and situation, you can choose from Online Ordering, our Original Express Program, our Online At Home for remote or distance learning, and our popular Tile Wall Program. You can even make a personal order on our website.
It's easy to get started…just request our free brochure or call 1-800-421-0020 for more information. We can't wait to help you make memories!