"Without promotion something terrible happens…nothing!"
~ P.T. Barnum
Here in upstate NY, we've been seeing a lot of snow, so it is hard to believe that spring is right around the corner! With so many schools looking to finalize their spring fundraisers, we thought now would be an opportune time to share some great ideas on ways to promote your upcoming programs.
Some of our favorite ideas come from the schools that we work with. We love to see how students also get involved in the promoting and preparation of posters and bulletins. If you have a creative and fun way that you announce your fundraisers, please share them on our Facebook page, or email them and we'll post them for you.
Let's start with creating a display. Most schools have a display case or spot in their hallway or main entrance that can be converted to the perfect place to show off what you have coming. If you don't have a big enough area, simply placing posters throughout the building can also be a great way to promote. Allow students to hang them, or even have a hand in creating them.
If you do have space, creating a bold and colorful bulletin/display is a sure way to grab attention. Parents and students will be able to see a preview and begin to get excited.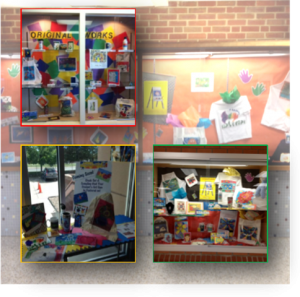 Kathleen from California, shared this great display that her husband made for her. She said "I had originally thought to have just one strip of metal for magnets but he made the whole backing metal. The wood trim allows for cup hooks. We used silicone to attach items, as it is quite strong but lends itself for an easy removal if an item must be replaced. I also made a little tag for each item with description and price, and then taped it to the respective item. The display is about 3 feet so as to not be too unwieldy for me to carry." Thanks for sharing this with us Kathleen!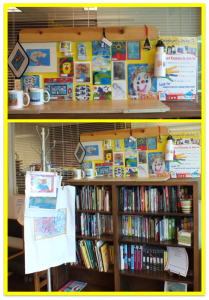 This school in Colorado, created life-sized silhouettes holding artwork, letting everyone know that Original Works was coming soon. This way, parents are on the lookout for ordering information.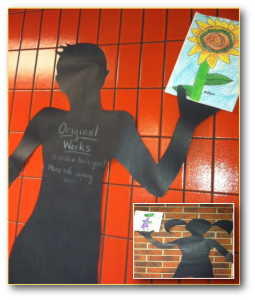 Speaking of orders. You might want to consider developing fun and creative ways to collect order forms. Recently one of our schools created a "Monster Order Box" and encouraged the kids to "feed" the monster their orders.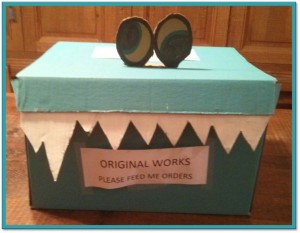 Make sure to promote the program in daily school announcements, on the school website and in the newsletter. Be creative and think of fun ways to get your students excited and generate a buzz. Need more ideas? Call or e-mail us. We can't wait to see what you do to promote your next school fundraiser!