Helen Pierce – Our Fall 2012 Teacher of The Quarter
Our featured art educator of the quarter is Helen Pierce from The Woodlands Christian Academy. We have had the pleasure of working with Helen for a number of years, and know her to be extremely organized, dynamic and caring art educator. Here is what she had to say about her passion for art and art education.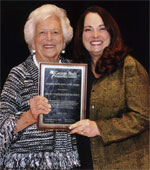 How long have you been involved in art education?
Art has been a passion all my life. I have had the opportunity to teach many subjects, to all levels of students, from the very young through the college level. Few educators are allowed to share and integrate such vast and varied educational experiences as mine. I have taught art, as well as remedial and gifted and talented core subjects across the entire socio-economic spectrum in both public and private settings.
What grade(s) do you teach?
Currently I teach art to lower and middle school age artists in a private Christian school.
What was it that sparked your interest in art and in becoming an art educator?
Growing up on a farm presented me with untold natural beauty, as well as having role models who appreciated the ever-changing world. My Dad was a mechanical drawing high school educator, farmer, and the builder of our home. My Mom was masterful at juggling her talents as a painter, seamstress, quilter, volunteer, all while creating a home that reflected her understanding of the importance of the elements of design in everyday life application.
Do you have a particular medium you like to use in your classroom?
People are my favorite medium to work in! The child within us all is something we must tap so that our students can have the confidence and belief to create. It is our job as art educators to teach, nurture, encourage, inspire and celebrate the creativity within all of our artists, no matter what their age or level of talent and skill.
Tell us one of your favorite parts about being in the classroom.
Art reflects the spirit of the artist. Individual artwork reflects the artists as they really are. Group work or projects in the art studio really give students the opportunity to have a real world working experience. Everyone brings different talents, ideas, and insights to a project. Each artist can contribute and learn from other artists. Together they can accomplish more than they ever dreamed of.
Art is an individual lab every day and it is the mastery of learning at the highest level.
It affords us the ability to witness this miracle of exploration, learning, and sense of accomplishment on a daily basis. Just watch an artist's eyes light up when they create.
Is there anything you would like to share with your peers about your career as an art educator?
We may be tried, tested, and dismissed by some as, "Just art," but we make a difference and the world is much more beautiful and functional because of art educators.
This I do know, having such a wide and varied teaching career. Teaching art is the most demanding, difficult, yet rewarding calling in my career path.
Remember, "In the beginning God created." Genesis 1.