I saw something posted on a Social Media site this weekend, that really hit home.  It was a countdown to Christmas!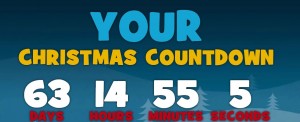 Are you the type of person who already has their gifts purchased?  A thrill seeker who likes to venture out shopping on Black Friday?  Perhaps you are a last minute shopper who is still out there on Christmas Eve?
Whatever your shopping personality, this year we hope you will consider shopping with us.  After all, at Original Works each of our products is unique, because they feature your special photograph or artwork.
From the adorable footprint artwork that Trevor did in preschool, to the portrait drawing that Lia created for her school's fundraiser, we see the entire gamut, and love reproducing these creations onto custom keepsakes that commemorate that special time and place.
Each fall our Sales team works closely with the program coordinators to ensure that these special orders arrive home in time for the holiday season, making gift giving easy and convenient.
Some of our new products for Fall 2014 are sure to be popular gifts. This week we are excited to highlight our Magnetic Jewelry Pendant, which features a custom magnet that fits securely inside a solid metal frame.  The pendant includes black fabric cording with a 3" metal extender, an attractive acrylic case, and (4) interchangeable magnets with  framed versions of the artwork, so that you can change the pendant to suit your look.
Then of course there are our packages, which enable you to gift the entire set or break them apart as separate gifts.  However you choose to use them, our packages offer a terrific value.
Don't have a child participating in one of our fundraising programs this year?  Our eStore allows you to place individual orders and have them delivered right to your home!   We offer our entire line, including some additional products that are exclusive to the store, all available right here.  You can even upload your artwork or photograph and see how the image looks on your favorite product.  Why not consider sending our popular 15 oz. Grande Mug featuring a picture of your favorite furry friend to all of your family members this holiday season?
Do you like to shop local, or look for products that are Made in the USA?  If you didn't catch last week's blog, then click here  for an update on our Made in The USA initiative.
As you begin to make your holiday gift giving list, we hope you will consider the custom keepsake products that Original Works has to offer.  Then just think of the many smiles on the faces of those opening that special personalized gift this year.