– Carlos Fuentes
Although it is a bit sad to see the long days of summer slip toward fall, I have always found this to be a particularly exciting time of year. The farmers here begin to bring in their harvests, the leaves start to change, the air grows a little cooler, and we begin to get very busy at Original Works, which can only mean one thing. All of the kids are headed back to school …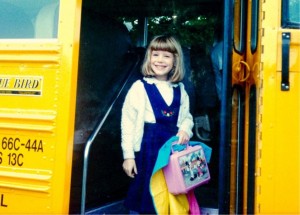 Oh that first day of school! Even though Alex is now all grown up and living on her own, I still remember that first day of each new school year as if it were yesterday.
In fact, one of my all time favorite pictures of Alex was taken on her first day of school. They were great times. Times filled with so much…new beginnings, anticipation, inspiration, and even their fair share of traditions. One of my personal favorite traditions is the 'First Day of School Picture'. The first day only happens once and I wouldn't want to miss it!
Parents dress their children up in crisp new clothes to take this snapshot, in a scene played out across the country. Some opt to take a picture of their child every year standing in front of the front door so they can see how much their child has grown; some take it in front of the school bus and others are lucky if they can catch a picture of the back of their child's head as they race out of the house chasing the school bus. Whatever the photo, wherever the location, each one tells a story and captures that special moment in time.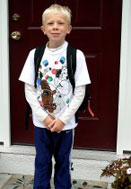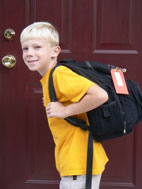 Have you ever thought of showcasing your child's journey from preschool through high school graduation? What a great tradition this could be. After all, once you have captured that special moment on your camera, the last thing you want to do is leave it on your camera or computer where no one can see it. Photos are meant to be enjoyed and shared. Why not do something with these photographs and turn them into tangible reminders of a special time for your family?

Imagine taking your child's yearly first day of school photos and having them transformed into holiday ornaments. Decorate your tree with them while your child is small and then gift them as they grow and get a place of their own, filling their tree with warm memories.
Another great option is to make an extra copy of the photo and have your child create an artistic collage with their photo as the centerpiece. Have them create colorful borders around the photo or even place the photo in the middle of a scene that they create. Think of how proud they will be to take center stage in their own work of art!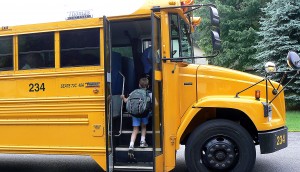 There are so many ways to celebrate that traditional first day of school. Does your family have any special or unique back to school traditions? We'd love to hear all about them! Please leave us a comment below and tell us about them. Who knows, maybe you'll help us start a few new traditions of our own!

Carol
Click below to see our featured lesson plan this week!
Looking Into My Life Lesson Plan