– Vincent van Gogh
I love, love, love this quote! After all, where would we be without dreams? To me dreams provide the inspiration for action. They are the fuel that drives us toward our goals, whether that goal is painting a picture, getting an education, running a race or starting a business.
I love to read or hear about people who have a dream and then go out and achieve it. In a very real sense that is what we have done with our business and I know how exciting that has been. So when I hear about others who have done something similar, it creates that sense of excitement in me all over again.
During the last five summers we have had the opportunity to work with Camp Under The Woods. This is a one week summer day camp for "differently- abled children", and is a dream turned to reality for its founder – Heidi Underwood.
Heidi is a Speech Pathologist by training, but more importantly she is someone who had a dream that she brought to fruition through vision, passion and of course a great deal of hard work. Each August Heidi rents space at a local Girl Scout Camp and with the help of volunteers and staff members transforms it into a retreat for special needs children. There are games, sing-alongs, a splash pad and of course arts & crafts. In the morning children 3-7 years of age come to Camp Under the Woods and in the afternoon children ages 8-12 come to Camp Summer Social.
In fact, art is a central theme of the camp and over the years we have produced a variety of products featuring the children's artwork. For example, this year we produced bandana's for the older children and individual plate mats for the younger kids. In addition to their own individual artwork, this year the kids worked together to create canvas murals which the counselors then stretched and framed.
On the last day of camp, all of the individual artwork and the team murals were hung in an "outdoor art gallery" for the kids and their parents and visitors to enjoy. What a way to celebrate! This is clearly a girl after my own heart.
Recently we had an opportunity to catch up with Heidi and ask about her dream and vision for the camp. Here is what she had to say:
So tell us, what was the motivation behind starting the camp? My initial motivation came from a little girl named "Hannah." I was her speech therapist for 3 years. Her autism was debilitating for her and her family. They didn't have the opportunity to participate in what was available in the community and enjoy regular activities outside of the home. As I began seeing more children with autism, I realized there was no place in our community they could go for a camp experience similar to that of their typically developing peers.
Do you have a favorite activity at camp? It is hard to target one aspect or activity of camp that is a favorite, they are all so great! Recently we received a donation to purchase a "sensory room" designed to create a sense of peacefulness, or for some children, a heightened awareness of their environment. The room consists of a bubble light, lighted carpet and bean bags, visual stimulation, swings, trampoline's and music. This environment was sought after by every camper and most counselors.
What is the biggest joy you receive from running the camp. Knowing the children had a week of fun without the walls of home or school. Every day at pick-up, when I see the gratitude of the parents, the smiles of the campers and the joy the counselors feel for having made a difference. That is more than I could ever have imagined. It is truly amazing.
The biggest thing to ever go wrong at camp was … Bees! Every day camp starts off with singing songs around the "camp fire". A couple of years ago the stomping feet of 36 children disturbed the bees, and one of our most involved children was stung 6 times. Thankfully she was ok and returned to camp the very next day. Needless to say every year since then we make sure the bees have been taken care of so we can enjoy our camp song outside.
The funniest thing to ever happen at camp was … Well, did anyone know that not only can you use a paint brush to paint, but your entire body as well? This year we created group murals that consisted of a different medium each day (paint, glue, sprinkles, more paint). Our younger campers embraced this activity to its fullest, using their fingers, arms, bellies, whatever body part they could to create their master pieces. I initially was afraid to send the children home with paint from head to toe, but the parents got a laugh out of it and were thrilled.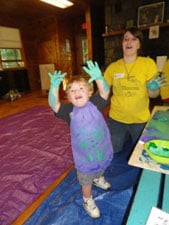 Any other final thoughts? Each year we dream up ways we can expand what we offer and do differently with our campers. It is truly a special week and one that I think about all year long. I am so thankful to my family, friends and all of the volunteers for helping me to make this a reality. My hope is that camp will play a role in shaping the parents dreams for their children, and that it will open the world to the possibilities of what they can do and where they can go. Krootez
Very well said. Heidi, thanks so much for spending time with us. We wish you the best of luck in planning for next summer and can't wait to see where you take the camp in the future.

Carol
Click below to see the lesson plans that Camp Under the Woods used!
Hands On
Ice Cream Cone