~ Native American Proverb
Today is the conclusion of Earth Week here in the United States. What used to be a single day each year spent focusing on environmental awareness and protection, is now celebrated for an entire week. The ultimate goal is that this environmental awareness becomes second nature, and a part of our daily lives. At Original Works we try to live by this model, doing what we can to help the environment and help those in our community. We encourage you to join in these efforts.
Last year Original Works employees helped to create a community garden. The garden is maintained by employees with the harvest going to employees as well as a local food pantry. Our community garden was such a success that we are expanding it this year!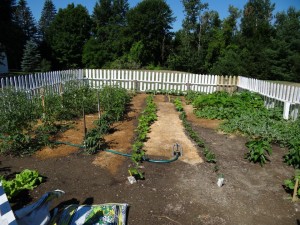 Original Works Community Garden – Summer 2012
A few years ago some of our employees decided to beautify the grounds while recycling some of the many wooden pallets we have on site. They created beautiful picket fences out of something that normally would have been discarded. How creative!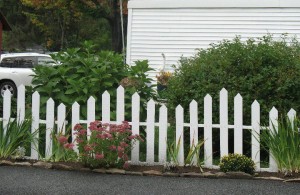 From Pallets to Picket Fences
Perhaps one of the biggest ways in which we have helped to reduce our ecological footprint, was a decision made when the idea of Original Works was first born. Instead of starting from scratch and building a brand new production facility, we first renovated a guest cottage on the back of our home. When we did finally grow to the point where we needed a larger production facility, we designed and built it to look like a large barn so that it blended right in with the farm country that surrounds us.
In fact, other than the cars in the parking lot, you could drive right by and not even know that our thriving business is right there.

The front door of the main house,
which now serves as our Sales &
Marketing Offices.
What did you do to celebrate Earth Week? Drop us a line and let us know. We will share them in our next blog or Facebook Post.
Click below to see our featured lesson plan of the week!