Q & A With Freedom 7 Elementary School

Original Works Stand Out School Profile:
Art Teacher: Marie-Claude Thellend
School Location: Cocoa Beach, FL
Art Class Website
We continue our Original Works Stand Out Teacher Series this month featuring a Q & A with Art Teacher Marie-Claude Thellend. Ms. Thellend has been an art teacher for the past 16 years, 14 of which she has been using an Original Works Fundraising Program. Seven years ago, while teaching at Freedom 7 Elementary School, Ms. Thellend began a Tile Wall Program.
Each year the students at Freedom 7 create art projects, that the school then commemorates by displaying in a tile wall. As an outdoor school in Florida, it's nearly impossible to hang paper artwork because of the humidity, so the Tile Wall program was a perfect match. Current art teacher, Melanie Weilmuenster says, "It is an amazing wall that adds so much more color to the building," and we couldn't agree more!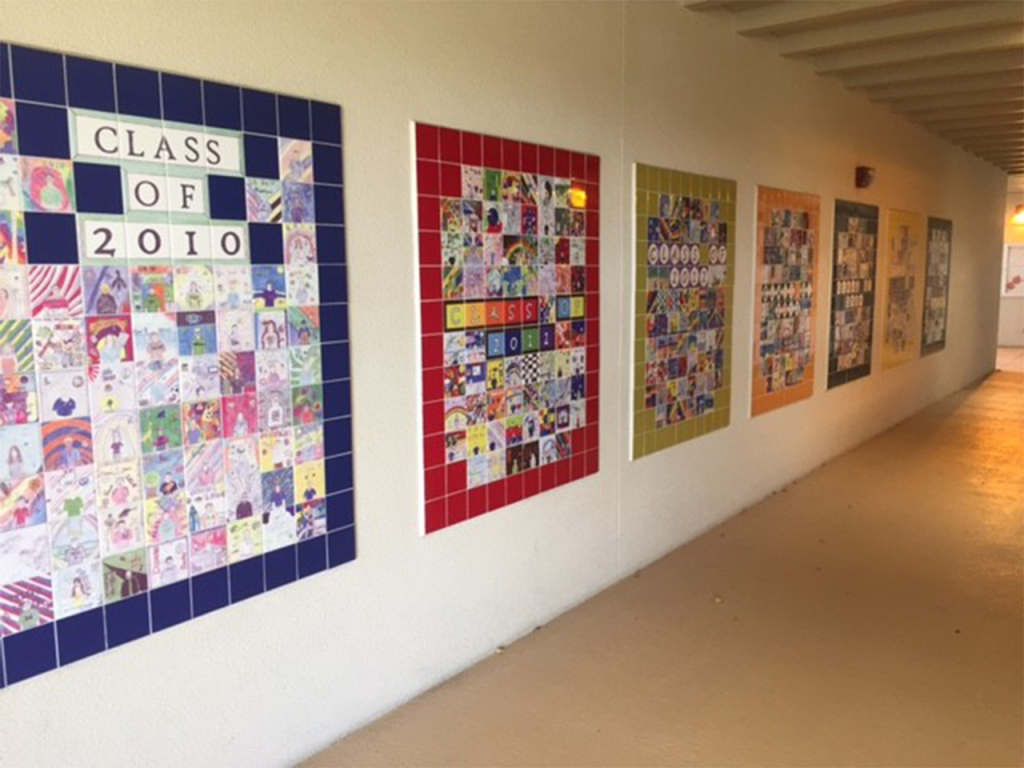 Check out close-ups of years 2011-2017 below! I hope they are all paying customers! LOL I hope they are all paying customers! LOL
What grades do you teach and how long have you been teaching art?
For the past 16 years, I have been teaching art to Kindergarten through 6th grade.
What was it that sparked your interest in becoming an art educator?
My father. He is a lifelong educator. After earning my Bachelor of Fine Arts, it was natural for me to blend my passion for art with my desire to share the wonderful world of art with children.
Do you have a particular art medium you like to use in your classroom?
I like to use a wide range of mediums, I think it's important to expose children to as many types of art as possible, but I am partial to 3D mediums such as clay, fiber art, and 3D mixed media.
Tell us one of the more memorable things that a student has done in one of your classes?
One day, one of my student whom I had struggled to engage in our art classes gave me a simple little strip of paper on which he had written "You are a good teacher (smiley face)", and his name. This little strip of paper still adorns the wall next to my desk and reminds me of the impact we as educators have on the life journey of our students. From that day on, my little student showed genuine interest in our art class and discovered a new facet of his own creativity.
Is there anything you would like to share with your peers about your career as an art educator?
For the younger grades (K-6), I find that my students are so much more engaged when they have fun and have the freedom to experiment with the supplies and techniques, as well as content. On a subtler level, I always try to emphasize the many connections art shares with other aspects of life in the hope that they become lifelong critical thinkers, (out of the box) problem-solvers, and always look at and appreciate art.
What made you decide to use Original Works?
I have partnered with Original Works for 14 years now (both as a fundraiser program and tile wall) and have consistently appreciated their service, support, and varied and quality products.
How have you used the funds raised by your Original Works program?
The funds have been used to improve the resources of the art room to provide a broader art education experience to every child at Freedom 7.
Original Works offers four Fundraising Programs, learn about each below.
Previous Original Works STAND OUT Teacher Series…
You May Also Like…