Ms. Katie Meredith – The Current Teacher Of The Quarter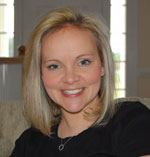 Our featured Art Educator is Ms. Katie Meredith from East Lake Elementary School in McDonough, Georgia. Last month Original Works was able to ask Katie some questions about herself, her love of teaching art and what she can share with her fellow art educators. Read below to see some of her answers as to what inspires her and what she has learned through the years.
How long have you been teaching art?
I have been teaching art for 14 years in Henry County.
What grades do you teach?
I teach grades kindergarten through 5th grade.
So what was it that sparked your interest in becoming an art educator?
My interest in art began at a very early age. My grandmother was a self taught oil painter, and avid crafter. She lived on a farm and painted many pictures of farm houses and barns, and was constantly creating flower arrangements and building pieces for her home. I always loved art, making and creating. I guess I got that from her!
Do you have a particular art medium you like to use in your classroom?
I love painting! We just about use paint in every project we do, one way or another! Children express themselves so freely when paint is involved!
Having taught for a while now at a variety of grade levels, you must have some interesting stories. Tell us one of the more memorable things that a student has done in one of your classes?
Over the years there have been many students who have made many memorable impressions on me! But with everything that my children have done my favorite memories are of the children who bring in projects that they have done at home. Things they have learned from me, and taken them one step further once at home, and brought them back to share. That is when you truly know that what you are doing matters…and that it has inspired a young mind!
Is there anything you would like to share with your peers?
Teaching art to children is one of the best jobs that there is! You have the opportunity to allow a safe place where there are no "right" and "wrong" answers. As an artist children can relax and learn that their imagination can run wild, with no restraint! What is better than being in a class where whatever you can imagine can be created!