Ms. Ashby Free – The Current Teacher Of The Quarter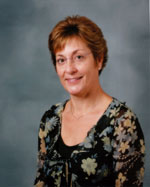 Our featured Art Educator is Ms. Ashby Free from El Dorado Private School in Scottsdale, Arizona. Last month Original Works was able to ask Ashby some questions about herself, her love of teaching art and what she can share with her fellow art educators. Read below to see some of her answers as to what inspires her and what she has learned through the years.
How long have you been teaching art?
11 years.
What grades do you teach?
I teach K-8 at El Dorado Private School in Scottsdale, Arizona.
So what was it that sparked your interest in becoming an art educator?
During my life I have been fortunate in establishing myself as an artist in Textile Arts, Ceramics, as well as Fused Glass. Yet despite my successes, I felt there was something missing which I later discovered was the joy of exposing others to the world of art.
Do you have a particular art medium you like to use in your classroom?
I love watercolor. It's free flowing not rigid like drawing and is very forgiving. It doesn't seem to intimidate the kids. I've also found that they are very successful with it.
Having taught for a while now at a variety of grade levels, you must have some interesting stories. Tell us one of the more memorable things that a student has done in one of your classes?
One of the most rewarding aspects of this job comes when an old student stops by. Just last May, nine former students of mine who had just graduated High School made a surprise visit to the school and their first stop was the Art Room. It was fun hearing them relive their memories and speak of how I had made an influence on their lives. So much so that two of those students not only brought along their High School Art to share, but went on to exclaim that they were going on to College to get degrees in Graphic Arts, all inspired by what they had originally learned in my art class. I couldn't have asked for a greater gift than that!
Is there anything you would like to share with your peers?
I've come to realize that although you may teach a particular grade level year to year, you must remain flexible in your curriculum as that grade level rarely remains consistent when it comes to that grade's capacity for learning. I often receive surprised looks when parents find out the grade levels in my displays. Set goals that are slightly beyond what you think their reach is and let them surprise you.