Christmas Art Project Ideas For Kids
The Christmas season is a great time to get creative when decorating, and make some of your own DIY décor. Paper-based projects are an especially fun and easy way to get the kids involved, while turning out holiday crafts you'll be proud to display anywhere.
Here are some ideas for simple, beautiful decorations that make the perfet Christmas art projects for kids! You can make and use in your home during the Christmas season…these are suggestions, but kids' individual creativity in working on these projets can result in some wonderful, inspired designs!
A Key for Santa
What happens if your house doesn't have a chimney? You'll need a key for Santa! To make one, use a scrap of cardboard (any color), and draw a key on it, as well as a rectangular shape for a tag. Punch a small hole in both the key and tag, and decorate the key however you like, using sparkles, glitter, stickers, etc. Write a message on the tag: "Dear Santa, We don't have a chimney in our house. Please use this special key instead! Lots of love, [your family name here]." Attach the tag to the key with ribbon, leaving enough ribbon to make a loop to hang up the key.
Triple Star Ornaments
To make a simple star ornament perfect for hanging on the tree, use three pieces of cardboard or construction paper, in two or three contrasting colors. Cut out one star on each piece, in three different sizes that become successively smaller, so that the three stars fit inside one another. Glue the smallest star onto the middle-sized star, and then glue the middle star onto the largest star. Punch a hole in the star and thread ribbon through it to hang it up.
Classic Paper Snowflakes
There are many uses for the traditional paper snowflakes you probably remember making when you were a kid: everything from present toppers, to tree ornaments, to window decorations, to garlands created by stringing more than one together. To make them, all you need is some sheets of paper—any size or color you like—and a pair of scissors. Fold the paper up, cut out some shapes from each folded piece, unfold and presto! You have a unique snowflake. Let your imagination run wild!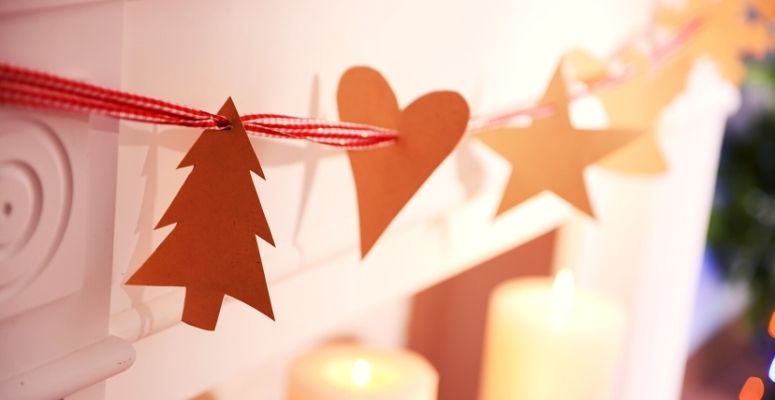 'Merry Christmas' Garland
You can craft your own "Merry Christmas" garland using green and red scrapbook paper, adhesive alphabet letters, a paper cutter and/or scissors, mini clothespins and twine. Using the paper cutter, cut the scrapbook paper into 2.5 x 5-inch rectangles. Cut a triangle out of the bottom of each paper rectangle, using the scissors. When do you start using a pregnancy pillow? There is no set gestational age where you must begin to use extra support, in fact many women use them from the start of their pregnancy. Even though your belly might not be showing, there may still be extra pressure on your bladder and hips and a little support could help alleviate that. If you want to learn more – https://pregily.com – Later in pregnancy, around the third trimester, it becomes important to sleep on your side, and a pregnancy pillow can help make it more comfortable for many sleepers. #pregily #pregnancy #pillow #pregily.com #maternity. Remove the backing from the letters and attach one letter to each paper flag, to spell out "Merry Christmas." Cut one long piece of twine (or two medium length pieces) and attach each flag to the twine with two mini clothespins, leaving equal space between the flags and extra twine on each end for hanging.
Paper Circles Candy Cane Ornament
This colorful ornament is made with scraps of red and white card stock, construction paper or decorative paper, 8 inches of yarn, scissors, glue and a pencil. Start by drawing a one-inch circle to use as a template (use a compass if necessary for a perfect circle). Using the template, cut out a series of red and white circles of the same size. Start at the bottom of the cane and begin gluing the circles together, using a red circle first at the bottom, then alternating colors with each circle thereafter, putting the glue on the portion of the circle that will overlap the one below it. Continue gluing the circles together until you get to the top of the cane, then glue the ends of the yarn between the red and white circles at the top of the candy cane. This forms the hanging loop. Finally, finish gluing the red and white circles together to form the hook part of the candy cane shape.
Fingerprint Tree Christmas Card
Start with a piece of colored construction paper to serve as your card base (black works well). Using a gold or bronze metallic marker, draw a Christmas tree outline on the card, and, if desired, a border around it. Add details on the tree trunk, as well as a star on top. Next, dip your fingers in green paint and press them on the card, filling in the Christmas tree. Do the same with red paint, pressing your finger down in various places to create the effect of ornaments. Let the paint dry, and your card is ready to display or send!
Paper Plate Santa
Draw a large triangle on a piece of red cardstock. This will be Santa's body. Cut out triangle. Next, cut your paper plate in half, keeping one half for the project. Along the curved edge of the plate, draw ines for your child to cut and make into the beard of Santa, cutting each line and curving some pieces upward. Glue wiggle eyes and a red pom-pom nose on the paper plate, then glue the plate to the red triangle. Finally, glue a cotton ball toward the top of the red triangle, to complete Santa's hat. Let the glue dry completely before displaying.
Paper Loops Christmas Tree
Cut 15 strips of green paper, then bring the ends of the strips of paper together and glue them to form loops. Next, cut a stem for the Christmas tree from brown paper and glue it onto the bottom of a sheet of blue paper. Then starting at the bottom middle, glue a loop to the blue paper, so that it overlaps the stem slightly, and then glue two loops onto each side of the first loop. Next, glue four loops in a row above the bottom row, so that they overlap slightly. Glue three more loops above those, overlapping slightly again, then glue two loops and then one loop for the final row. Cut a star from the yellow paper and glue it to the top of the Christmas tree. Finally, add dots of puffy paint to the loops and sprinkle the tree with glitter (if desired) before the paint dries. You could also use glitter glue pens.