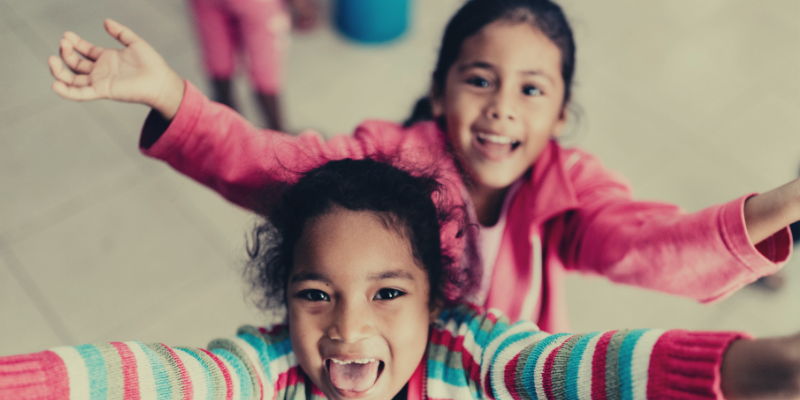 Parents are usually the first to see and appreciate the flowering of creativity in their children! One of the many skills children learn from the arts – collaboration – is fostered in the classroom, beginning with art projects where kids work together for a common goal in an environment of fun and learning.
For young children, art and creativity in the classroom are an important part of child development. Drawing, painting, working with clay or construction paper, dancing, acting, role-playing, or playing a musical instrument provides children with an opportunity to express themselves non-verbally, increase their fine motor skills, and have some fun!
There are many types of environments – even at a very young age – where children will be required to work in a group or focus on a common goal. For instance, with an elementary art show, the planning begins with developing a classroom art theme or project goal. The group art project may require each child to contribute a piece of the project which becomes part of a larger whole. For young children, learning shared responsibility, working with others, and navigating the give-and-take of compromise are valuable life lessons.
Working on an art project within a group setting can provide a young child with unique challenges and opportunities for gaining a larger view of the world around them. Clearly communicating their ideas using and practicing new vocabulary, listening and appropriately responding to others' ideas, and taking away information or new ideas from their interactions are all parts of learning successful team dynamics.
One of our most popular Original Works Programs is our Tile Wall Program. Children create their own unique tiles, or create a specific portion of a larger image project. They are gathered together and are permanently displayed on the wall of a classroom or hallway. With a number of different fundraising programs, Original Works has been a fixture in many art rooms since 1989, providing support and guidance for teachers and art teachers as they create their own collaboration in the classroom.
It's simple and easy to sign up for your art fundraiser, or get your free brochure today. Our sales team works closely with art teachers, classroom teachers and school administrators to ensure that the Original Works fundraising experience is a win-win!