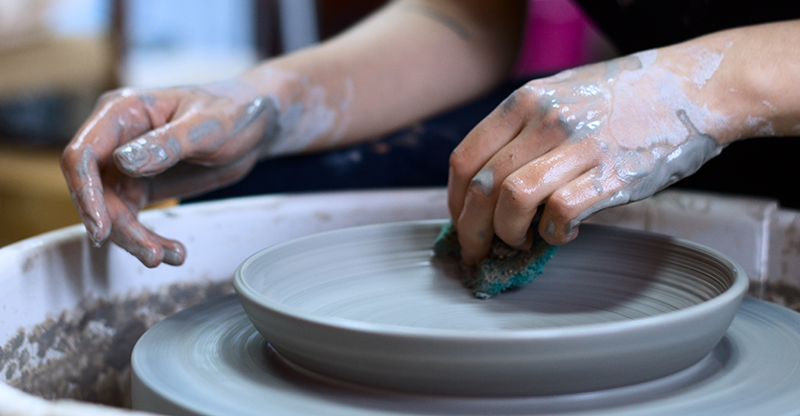 In this post you will learn how one school uses Original Works fundraisers to increase their profits year over year, allowing them to purchase art supplies, new kilns and other classroom equipment. Special thanks to busy Art Teacher, Chris for taking the time to answer some questions on what has made his private school fundraising program such a success.
After the tips provided by Chris for how to run a successful program, we share a few other examples of how other schools have been able to spend their art fundraising profits enhance their art  and educational programs.
Q & A With St. Mary's Springs Academy
How long have you been running the Original Works program at your school?
I have been at St. Mary's Springs Academy for the past 4 1/2 years.  I have been running the program every year I have been here and my predecessor was the one who introduced me to the program and had been doing it for awhile before I started.  I coordinate the program with my fellow art teacher who teaches Preschool through 3rd Grade.  I teach 3rd Grade through 8th Grade.  Each year, we develop a theme for the Original Works Project we will be doing.  The first year was "Under the Sea", year two was "Architecture", year three was "Christmas and Winter" (since we are a private Catholic School, we could focus on the religious aspect of Christmas), and last year was fall.  We have come up with a rotation of themes, so as the students move through the system, they never repeat a theme.  We have parents that purchase magnets every year of their students art work, so they have different themed magnet for each year.
       2. What did you use your profits for?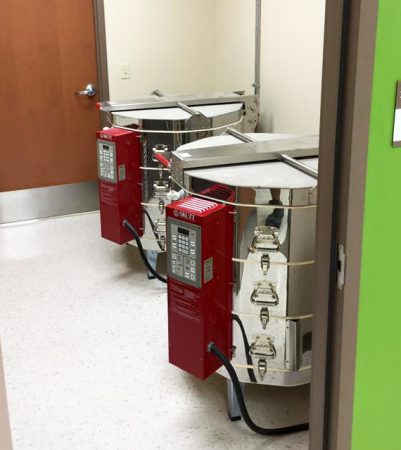 Our profits have steadily grown from year to year.  We have used our profits for different things in the past few years.  The first few years, we have used the profits to build up our supplies and purchase tools and materials that we needed, such as supplies for printmaking, books, etc.  The last two years, we set up a rollover account, so that the money we earned could be rolled over from year to year and continue to build up.  By saving the money from two years of the program, we were able to purchase two brand new Skutt Kilns and Environment Systems for our new art classrooms at our new PK – Grade 12 Campus opening this fall!
How long did it take for you to earn the needed profits?
It took us only two years to earn $6500 in profits to purchase the kilns.  Prior to that, we earned about $4000 in the first two years, which we were able to use on classroom materials/tools/other art supplies.
Do you think that families were more supportive knowing what the funds were going towards?
Yes, families are very supportive because they know where the funds are going.  The families at our school are very supportive of the arts.  They are constantly asking if we need anything for our classrooms.   Each year our profits have grown by about 15% or so, because parents are very supportive of our fundraiser, knowing we are purchasing tools and supplies to give their children the best art experiences/opportunities we can.  Also profits continue to grow, as the enrollment in our continues to grow.
Do you choose a specific art lesson for the OW project?
As I stated earlier, we have a rotation of themes we chose from for each year.  Each year, the students from PK through Grade 8 complete a project based off of a theme, but tailored to they grade level and skill level.  This way as they go through the system, they never repeat a theme from PK through Grade 8.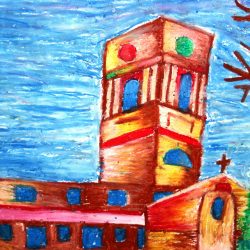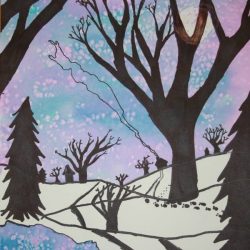 What are you planning to do with this year's funds?
The funds we raise from this year's Original Works Program will be used to purchase new things for our classroom, including shelving kits for our kilns, drying carts for ceramics, shelving, cabinets, as well as other tools and supplies for the students to use in completing their projects.
Are there any tips/tricks you can share with other art teachers on running a successful private school fundraising program? (art, promotion etc..)
There are many things I can say to teachers to run a successful program:
Be organized.  I have created a record sheet for recording orders and keeping track of artwork that is going to be sent in.  I put all artwork in file folders labeled by class, with a record sheet attached to the front.
PROMOTE, PROMOTE, PROMOTE:  Send letters home, advertise on Facebook, send out emails, anything you can do to promote what you are doing.  I often take photos of the students working on the projects and post them to my classroom Facebook page and advertise what will be coming home.  PUSH IT with your students too. They are your biggest advocates.  If they are excited about it, parents will be too!
Tell people why you are doing the fundraiser.  If you have a purpose behind the funds being raised, it tells people what and why and gives your program purpose.
Change it up. Be creative in themes.  Make things colorful and vibrant.
School Fundraising Profits
Successful private school, preschool, community group or religious fund raising provides opportunities to increase necessary resources. There are many ways to spend those funds – here are just a few:
School Trips: Whether to a local museum, or to the US Capital, our fundraising programs have helped many schools provide trips all across the U.S.
Athletic Equipment: Booster clubs use their profits to purchase new equipment, uniforms and more.
Go see the entire list of ways schools use their public school, community organization or religious fund raising profits to enrich their programs.  Read the full list here…