Original Works has been helping schools across the USA create and implement successful fundraising programs since 1989! High quality products, great customer service and attention to detail helps dedicated art teachers and school fundraising coordinators like Wendi create and complete a fun and successful program to raise more money for their school.
Meet The Fundraising Coordinator:
Name: Wendi Hobbie
Title: Program Coordinator
School(s): Chesterfield County Public Schools, Virginia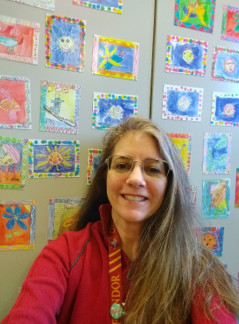 Experience With Original Works: 23 Years
Q. How long have you been teaching, and what was it that sparked your interest in becoming an art educator?
A. I have been teaching for 28 years.  While I was in college, I realized I did not want to be a Graphic Artist.  I wanted to help others.  That summer I was the art director for a small camp.  I enjoyed the experience so much, I added art education to my graphic's major.  In 5 years, I graduated from Longwood with two art degrees and a future career.
Q. In your position, what are some of the biggest challenges you face?
A.  In the past I would have said having enough money for supplies.  Since Covid 19, I have learned to use technology in new ways and I have learned to adapt.  But the challenges we face now are how to keep students safe as well as emotionally supported through all of the changes.  Thankfully, the arts are the perfect place for students to explore their emotions and a place to gain confidence.  This year, thanks to my wonderful PTA, and Original Works, we raised enough money to ease the former concerns about the affordability of supplies.
Q. What was it that interested you in running an Original Works program?
 A. This program was up and running before I took over.  I love that students have their own artwork printed on items.  The quality of the items is what kept me with Original Works.
Q. What were the greatest benefits the kids received from participating in the program?
A. Students and parents can see the result of their artwork and enjoy ordering the beautiful work printed on lots of things.  Students see how valuable their artwork is.
Q. Speaking of the kids, tell us about one of your most memorable experiences in the classroom
A. Students love to make little pictures for the art teacher.  Even when we were virtual.  A first grade student told me how much she missed me.  She said she made a portrait of me and would I like to see it.  She explained that she used all of the colors of my hair, brown, blond, and gray!  I told her I loved the picture but that the gray was actually unicorn hair.  (Parents were laughing off screen.)
Q. The Original Works programs focus on creativity and self-esteem, while providing a vehicle for raising needed funding.  What will you be doing with the funds you raised from the Original Works program?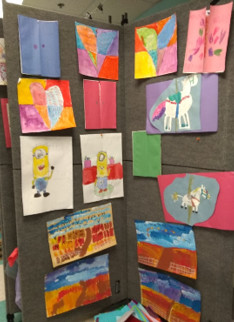 A. I need all kinds of supplies like paper, clay, and the list goes on.  But a few years ago, we used the money for ProPanel art display doors.  They are fantastic and so easy to use.
Q. Since art educators from around the country will be reading this post, do you have anything you would like to share with your peers?
A. Hang in there!  Enjoy the little moments.  Remember students need you and art.  You are there to let them have the time to create and imagine.  They will also learn to problem solve and forgive themselves if the work is not perfect.  They will learn to give themselves grace.  So give yourself grace too.
Thank you to Wendi Hobbie for sharing her time and perspective with us today in our Art Educator Spotlight – we appreciate all you do to educate, nurture, and support our children. (Be sure to check out our other Program Coordinator Spotlights!) It is our privilege to connect with the art teachers, coordinators and staff who embrace the opportunity to create successful Original Works programs for their students! If you are a teacher, staff, or parent who wants to increase fundraising profits for your school, call us today at 800-421-0020, or get our free program brochure today.