~ Margaret Thatcher
There is something about each and every season that I look forward to and love. Spring is a season of regrowth, flowers, sunshine, and warmer temperatures. Summer is full of family vacations, picnics, 4th of July, pool parties and time spent outdoors. Fall brings us cooler temperatures, sweaters, apple picking, pumpkins, hot apple cider, football, Halloween and Thanksgiving. That brings us to our current season, Winter. Yes, I know that winter doesn't officially start until December 21st, but to me, post-Thanksgiving and the upcoming Christmas season always signify winter. Winter contains more of my favorite things like hot chocolate topped with marshmallows, cool nights sitting by the fire, falling snow, and Christmas!
Christmas is a magical time for kids and adults alike. Kids dream of Santa with his flying sleigh, and mountains of presents stacked up under the Christmas tree. To many adults such as myself, it is a holiday that brings families together to celebrate, seeing your child's face light up when they get the "perfect" gift, and a time chock full of traditions.
Every family has traditions around the holidays, some big, some small, some new, and some old. Traditions and fun around the holidays don't have to be grandiose, as it is often the simplest and most inexpensive of things that we remember long after the moment has passed. This week I thought I would share a few creative ideas that you might incorporate into your family's holiday traditions this year.
I absolutely love this idea from Tresa Black, who transformed her family's thumbprints into reindeer. What a fantastic creation that can be framed (as shown below) or transformed onto a beautiful set of customized Christmas Notecards.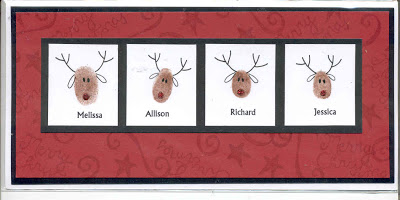 Perhaps I am a little partial, but our own Decorative Ornament is something truly special. Custom designed exclusively for Original Works, it offers a wonderful way to showcase your favorite holiday photograph or artwork. The ornaments are available in both horizontal and vertical orientations.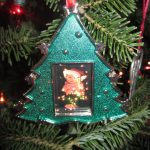 I absolutely adore this idea. Erica from Confessions of a Homeschooler created these Minivan Express tickets that she hides in her kids beds. Just when they think they are going to sleep for the night, they discover these golden tickets, grab their slippers and jump in the car – off on a tour of local Christmas lights! Erica offers other ideas of where to take your kids, and also includes a free printable for the tickets. What an adorable and free tradition!
In fact, the next night you might consider having the kids break out the markers, paints and crayons and create a piece of artwork featuring their favorite memory from the night before. You could ship the artwork off to our eStore for creation of a special pillowcase, and start a new tradition by bringing out the pillowcase each December.  What a great way to relive that special memory!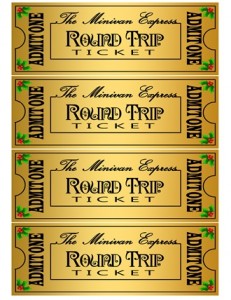 https://www.confessionsofahomeschooler.com/blog/2011/12/mini-van-express-tickets.html#
These are just a few of many creative and unique ways to capture and preserve memories of the Christmas season. Stay tuned for more in the coming weeks. Do you have a family holiday tradition you would like to share with us? If so we would love to hear from you. Simply send us a message on our Facebook page or leave us a comment below.
Carol
Click below to see our featured lesson plan of the week!