~ The Grinch
With Hanukkah upon us and the Christmas season quickly approaching, we tend to quickly scurry around and try to get everything checked off of our lists, instead of taking time to savor the season. It often becomes more about getting the latest tech gadget, newest handheld game, or biggest television rather than giving a meaningful and thoughtful gift.
Hopefully you have planned ahead and have one of our wonderful products with your child's artwork or a memorable photograph ready to be wrapped and sent off to Grandma. If not then don't fear, we offer Original Works gift cards! These make wonderful gifts for teachers, grandparents, or anyone special in your life. They are available right in our eStore.
The Gift Card from Original Works
Here are a few other ideas for personalized gift ideas that you can make and give this holiday season. Below is a wonderful Hanukkah frame that would make a terrific gift for anyone on your list this year. Full instructions are available here.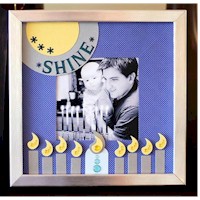 Hanukkah Frame from Free Kids Crafts
Liz from Naptime Decorator created this adorable Hand Print Family Tree. This would make a fantastic and memorable gift for grandparents. More directions and pictures are available on her blog.
Family Tree Frame
Since my daughter Alex's first painting was the inspiration behind starting Original Works, this last idea is very close to my heart. Rachel Bishop of Rachel Bishop Designs took photographs of her daughter Riley creating her first masterpieces. She then framed them along with the actual artwork and gave them as holiday gifts. I love, love, love this idea. For the back story on the creation of this special gift, click here.
I hope you were able to find an idea that is just right for someone in your life this season. If you are looking for even more ideas, Pinterest is full of inspiration and decorations. We have compiled many of them on our Pinterest Page.
Do you have some creative gifts you would like to share with us? If so please message or e-mail us and if space allows I will feature them on the next blog post.
Carol
Click below to see our featured lesson plan of the week!