Create your own
customized Christmas Gifts
with Original Works. All you need is your favorite photo or an original piece of artwork to transform our high-quality products into extraordinary,
personalized gifts for family
, friends and co-workers. Here are the top 5 products on this year's hot list:
15 Oz. Ceramic Grande Mug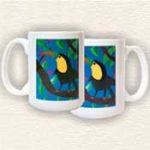 This large white mug holds an impressive 15 oz. of liquid, and showcases your full-color 2 3/4" x 3 1/2" image on both sides! The perfect holiday gift for a boss or co-worker who can't get enough caffeine. Mugs are microwave and dishwasher safe. More info >
Magnets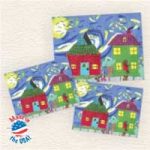 Everyone knows that refrigerators make the best art galleries, so why not turn your magnets into a work of art? Our 4" x 5" magnets feature a laminated front with strong magnetic backing. Customized with a child's artwork or photo, it's a great holiday gift for parents and grandparents. More info >
Snowflake Ornament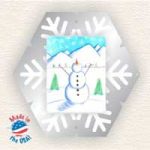 No two snowflakes are the same, which is especially true for our custom metal ornaments! The 3" x 2 15/16" metal ornament features a white snowflake design on a silver background, personalized with your own artwork or photo. Image size is 1 7/8" x 1 3/8". Exclusively designed for Original Works! More info >
Tile/Trivet
Our 8" x 6" high gloss ceramic tiles are decorative and functional. Whether used as a tabletop trivet or put out on display, these durable tiles can be customized with your favorite piece of art or family photo. A unique holiday gift for bakers, chefs and anyone who spends a lot of time in the kitchen. More info >
Brass Holiday Ornament
New for 2016! This 2.9" x 2.5" brass ornament is 1/16" thick and features a white silk screen design. Add a photo or artwork for a truly personalized gift. Makes a memorable "First Christmas" or "New Home" gift for loved ones and friends. Image size is 1 7/8" x 1 3/8". More info >
Custom Holiday Gifts for Everyone on Your List
Looking for more unique customizable gifts for everyone on your holiday shopping list? Browse the complete Original Works e-Store. Simply upload your digital photos and images online, or order by mail with our Printed Order Form.
[vc_button style="default" size="default" color_style="default" acolor="#555555″ acolor_hover="#444444″ bw="0″ br="default" align="none" title="Original Program" target="_self" lb="" icon_align="right" icon_size="normal" href="/original-program/"]
[vc_button style="default" size="default" color_style="orange" acolor="#555555″ acolor_hover="#444444″ bw="0″ br="default" align="none" title="See Before Buy You" target="_self" lb="" icon_align="right" icon_size="normal" href="/see-before-you-buy/"]
[vc_button style="default" size="default" color_style="green" acolor="#555555″ acolor_hover="#444444″ bw="0″ br="default" align="none" title="Online Ordering" target="_self" lb="" icon_align="right" icon_size="normal" href="/gallery-program/"]
[vc_button style="default" size="default" color_style="purple" acolor="#555555″ acolor_hover="#444444″ bw="0″ br="default" align="none" title="Tile Wall Programs" target="_self" lb="" icon_align="right" icon_size="normal" href="/tile-walls/"]